National Convenor of AusTimorFN
Derarca first became involved in Timor-Leste when the City of Stonnington initiated a friendship with the Sub-district of Baguia in 2004. Derarca initiated the first friendship contact on behalf of the group and, due to the lack of communication possible with the area, turned up un-announced on the local truck in 2005. She was immediately surrounded by the warmth of the people in this isolated community and enchanted by the stunning beauty of Mt Matebian.
As President of the Friends of Baguia, she has continued to visit Baguia annually, staying for up to 5 weeks in Baguia while walking to every village in the district and staying overnight in some of the high mountain villages. It is the generosity of spirit of so many of the Timorese that continues to inspire her.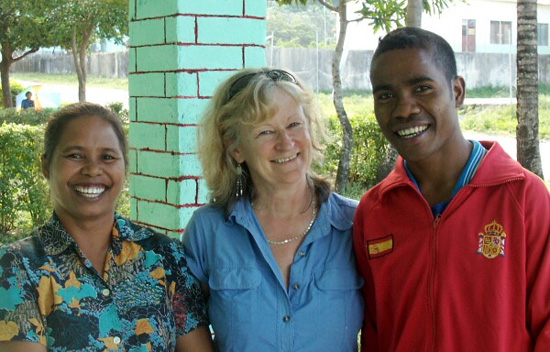 In Australia, she holds a day job as a Project Manager, a skill-set that she readily utilises to support the Friends of Baguia projects on the ground in Timor. Her life-long passion is travelling, due to a fascination with other cultures and a love of nature. At home she likes to pretend that her life is not ruled by her two pet greyhounds!
The Board of AusTimorFN Facilitators Inc appointed Derarca as the new National Convenor in February 2013 to replace Rae Kingsbury who stepped down from that role to assume her new appointment as Timor-Leste's Honorary Consul to Victoria.
Prior to this Derarca was the Victorian Facilitator since the inception of AusTimorFN.
Click here to contact Derarca O'Mahony.