Want to know more about what Friendship Groups are doing in Timor? 
Did you know…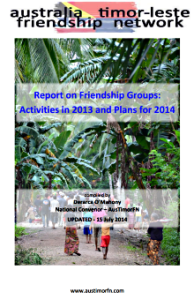 Friends of Aileu have an Oral Health Program with a Tetum-language school reader supporting the oral health message for use in local primary schools.
Ballarat Friends of Ainaro support Agricultural programs including projects for increased crop production and fish ponds.
Indigo-Atauro Friendship Group offer a Compact Teacher Training Program which involves an intensive five week program facilitated by two Timorese trainers in Tetum in every primary school.
Friends of Lacluta provide bikes to the SMA school for pupils to ride to school instead of having to board with local families during the school week.
Macedon Ranges Friends of Turiscai are providing readers in the local language to each child (500!) in their 13 primary schools.
Bendigo-Maubisse Friendship has set up and continues to support the 'Radio Communidade Maubisse' radio station.
Download and read the full AusTimorFN Report on the Activities of 20 Friendship Groups in 2013-14.